Milwaukee Defense Attorneys for Transportation of Loaded Firearm in a Vehicle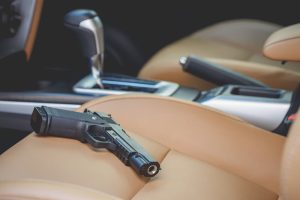 If you've been charged with transporting a loaded gun in a vehicle, you may be wondering if the government can take away your gun or if you could go to jail for the offense. Violating Wisconsin gun laws has serious consequences ranging from heavy fines to criminal convictions. Even if you are not convicted, a gun charge could stay on your record for the rest of your life.
With so much at stake—your money, your and your family's security, your freedom, your reputation—you can't afford to take a firearm offense lightly.
The Milwaukee firearm offenses lawyers at Hart Powell, S.C. are dedicated to representing clients who have been arrested for or charged with transporting a loaded firearm in a vehicle.
When Is Transporting a Loaded Firearm Illegal?
If you're a Wisconsin gun owner, there's a good chance you have transported your gun in a vehicle. In Wisconsin, though, it's illegal to transport a loaded, uncased long gun or handgun in a vehicle unless you're a member of law enforcement, military personnel, or have a concealed carry permit.
Violations of the Safe Transport Statute could occur when you are:
Hunting – You might have thrown your hunting rifle into your truck before heading out to shoot deer. If it was loaded, you violated the law.
Fishing – You might have brought your handgun along with you in your fishing boat. If the gun was loaded, you violated Wisconsin gun law.
Driving – You might have placed your gun in the glove compartment of your car. If the gun was loaded and you did not have a Concealed Carry Weapons (CCW) permit, you violated Wisconsin gun law.
However, if you were hunting and placed your loaded weapon on your vehicle when it was stationary, that is not a violation.
Can I Carry My Gun in My Car in an Open Carry State?
In an "open carry" state like Wisconsin, you can legally carry a firearm in public, provided it is fully or partially visible to others. Wearing a weapon in a holster is an example.
However, transporting a firearm in a vehicle is another matter. Wisconsin law has provisions for different types of guns and vehicles, whether the gun can be transported loaded or unloaded, and whether you need to have a CCW permit.
Can I Transport My Unloaded Gun in My Vehicle?
Wisconsin law governs the carrying of firearms in vehicles. The state's definition of vehicle includes cars, all-terrain vehicles, planes, and boats.
Can you transport your gun in your vehicle? If the firearm is unloaded, you can transport it under certain circumstances:
In a boat, whether the motor is running or not
In a plane, if the firearm is in a closed case, regardless of whether the plane is in motion
In a vehicle 
Who Can Carry a Loaded Firearm in a Vehicle?
Wisconsin law enforcement and military officers are permitted to transport loaded weapons in vehicles. According to the Wisconsin State Legislature, this includes:
Peace officers
Police officers
Qualified out-of-state law enforcement officers
Former law enforcement officers
Can I Transport a Concealed Weapon in My Vehicle?

Wisconsin residents who have a CCW can carry a concealed handgun in their vehicle.
A person is carrying a concealed weapon in a vehicle if:
The weapon is inside the vehicle and is within the person's reach;
The person is aware of the presence of the weapon; and
The weapon is concealed or hidden from ordinary view.
Can I Get a Concealed Carry Weapons Permit in Wisconsin?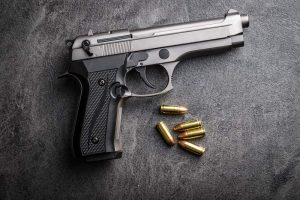 According to the Wisconsin Department of Justice, if you are applying for a CCW permit, you must:
Be at least 21 years of age
Not be prohibited from possessing a firearm under federal or state law
Not be prohibited from possessing a firearm by a court order
Be a Wisconsin resident with a current and valid Wisconsin driver's license or identification card or be an active military member stationed in Wisconsin
Provide adequate proof of training as required by law
Can I Transport My Long Gun in My Vehicle?
Shotguns, rifles, and black-powder rifles: basically any firearm with a stock designed to be fired from the shoulder is a long gun, regardless of whether it is semi-automatic, pump action, or bolt action. A machine gun is not considered a long gun, and it is illegal in Wisconsin to sell, possess, use, or transport any machine gun or other fully automatic firearm.
The only way you can legally transport a long gun in your vehicle in Wisconsin is if it is not loaded and:
The gun is not within reach of the vehicle's occupants.
If the gun is within reach, it must be transported in plain view from outside the vehicle.
What Defenses Are Available If I Am Charged with Transporting a Loaded Gun in My Vehicle?
If you have been arrested for or charged with transporting a loaded firearm in a vehicle, an experienced Wisconsin firearm offenses attorney could use any of these potential defenses while building your case:
Unlawful search and seizure – if the authorities didn't have probable cause or a valid warrant to search the vehicle, your attorney might be able to have the evidence suppressed.
Lack of criminal intent – If your attorney can prove that you had no criminal intent by leaving the weapon in the vehicle, such as if you recently moved and forgot the weapon was in the vehicle, they might be able to get the charges reduced.
Mistaken identity – If your attorney can show that the charges were based on a case of mistaken identity or false accusations, they could get the charges dropped.
Contact Hart Powell, S.C. Today for Help
The Milwaukee transportation of loaded firearms attorneys of Hart Powell, S.C. defend the rights of those who have been arrested for or charged with firearm offenses. We have over 30 years of experience achieving not guilty verdicts or having charges dropped altogether. We know what it takes to win firearm defense cases in state and federal court. With so much riding on the outcome of your case, you need us on your side.
Call (414) 271-9595 to learn more about your legal options from a knowledgeable criminal defense lawyer at the Hart Powell, S.C.. Don't go through this stressful experience on your own.