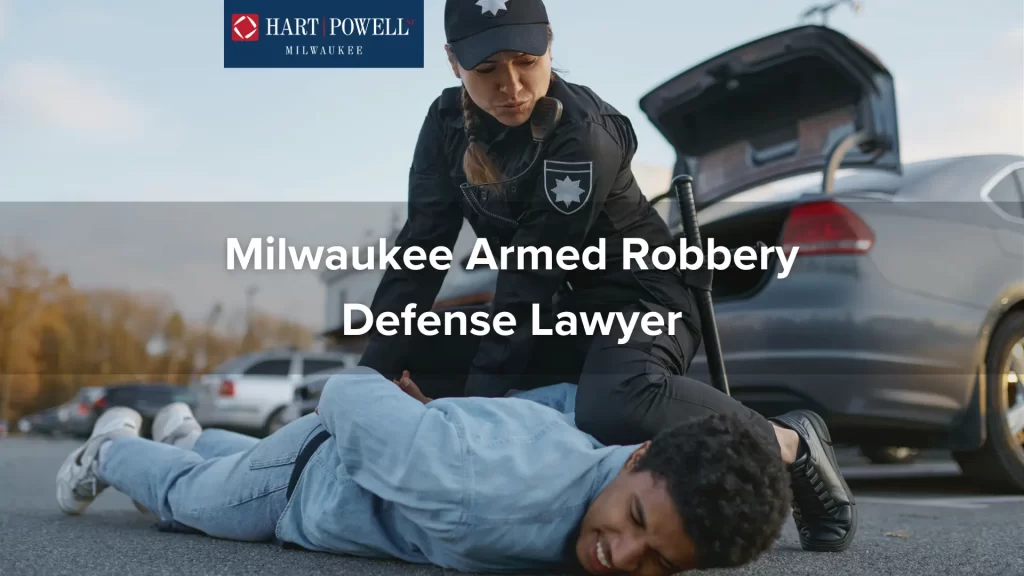 Contact the experienced defense attorneys at Hart Powell, S.C. today for help if you face armed robbery charges. If convicted of this serious crime, you face the possibility of a felony conviction, years in prison, and costly fines. This charge can also tarnish your reputation, make it difficult to find a job and alienate you from your friends and community.
An experienced lawyer can help you avoid the most severe penalties for this crime or get your charges dropped altogether. Knowing your legal rights and consulting with an attorney is the first step to protecting your freedom and future. Do not bargain with prosecutors or enter a plea without consulting a criminal defense attorney.
At Hart Powell, S.C., we believe everyone has the right to zealous representation. You do not have to go through this intimidating experience by yourself. An experienced defense attorney can help you fight this charge and the harsh penalties of a conviction. Contact the Milwaukee armed robbery defense lawyers of Hart Powell, S.C. today at (414) 271-9595 to discuss your case.
Why Do I Need a Lawyer?
An accusation of armed robbery can have both short- and long-term consequences. A conviction will likely change your life forever. Facing the criminal justice system alone when unfamiliar with the law can be challenging and intimidating. Having an experienced Milwaukee criminal defense attorney to represent you can help ease your stress and burden. An attorney can help because they:
Know and understand the law and the legal process

Can speak with the prosecuting attorney and other officials on your behalf

Can be present during interviews by police or prosecuting attorneys 

Ensure the prosecution is not violating your rights
Having an experienced attorney represent you can vastly improve the outcome of your case. When the stakes are as high as they are when facing an armed robbery accusation, it is prudent to speak with an attorney as soon as possible.
Why Choose Us?
At Hart Powell, S.C., we have represented clients in the Milwaukee area accused of criminal offenses such as armed robbery for over 30 years. We have an office in Milwaukee but represent clients in complex litigation matters nationwide. We have the experience and knowledge to represent clients in federal and state court. We believe that individuals are innocent until proven guilty. Thus, we strive to treat each client with the respect and dignity they deserve.
Over the years, we have helped people accused of crimes have the charges against them reduced or even dismissed altogether. In addition, we have been successful in many trials, winning several not-guilty verdicts for our clients. We have strong working relationships with prosecutors and can help clients get alternative sentencing, such as probation. We aim to get the best possible outcomes for our clients and protect their rights.
Armed Robbery Charges and Penalties
Armed robbery is committing forcible theft, more commonly known as a hold-up, with a firearm. The presence of a firearm is enough to qualify this act as armed robbery. An unloaded firearm still counts. Pointing a gun at someone or even just carrying a gun at the time of the theft can qualify as armed robbery. Under Wisconsin law, armed robbery includes theft or an attempt to deprive a victim of property, by use of force, or threat of force, with any weapon, container, device, or article that a victim can reasonably believe to be dangerous.
The criminal defense attorneys of Hart Powell, S.C. represent clients in state and federal court against armed robbery charges. We can help clients facing charges of armed robbery with a firearm, or any other type of dangerous weapon, including:
Any device designed to cause great bodily harm

Any device used to strangle, choke, or deprive someone of oxygen and circulation

Electric weapons

Any instrument used as a means to cause serious bodily harm
An armed robbery charge comes with a series of fines and penalties. Wisconsin classifies armed robbery as a Class C felony. The severity of the charge will depend largely on the circumstances of the case, such as whether the accused drew or fired a gun. The possible penalties for an armed robbery conviction include the following:
Up to 25 years in prison

Up to $100,000 in fines

Revocation of the right to bear arms

Restitution
Those convicted of armed robbery can also lose other rights, such as voting rights. The support of an attorney at Hart Powell, S.C. is invaluable. We can help you develop a strategy for building your best defense against these charges. Developing a case against a charge of armed robbery can be challenging and requires plenty of evidence. However, you can still win the battle against these charges. The attorneys at Hart Powell, S.C. can help you compile the necessary evidence to fight these charges.
For the prosecution to convict a person of armed robbery, they must prove to the jury that the accused is guilty beyond a reasonable doubt. This is most often called the burden of proof. Criminal cases require the highest level of burden of proof for a conviction. An experienced attorney, such as the ones at Hart Powell, S.C., can help place doubt in the minds of the jury members to prevent conviction. Our attorneys use defenses such as mistaken identity or proof that the accused did not use a weapon, device, or container or threaten to use one.
Contact Us
If you are facing a criminal charge of armed robbery, you need a criminal defense lawyer who you can trust to defend your case aggressively. At Hart Powell, S.C., we know what it takes to construct a strong defense. We will work closely throughout your case to pursue a favorable resolution. Whether this is your first criminal charge or you have a criminal history, our attorneys will fight for your legal rights. Contact the Milwaukee armed robbery defense attorneys of Hart Powell, S.C. today for sound legal advice on your armed robbery charge. Call us at (414) 271-9595.