Merton Criminal Defense Lawyers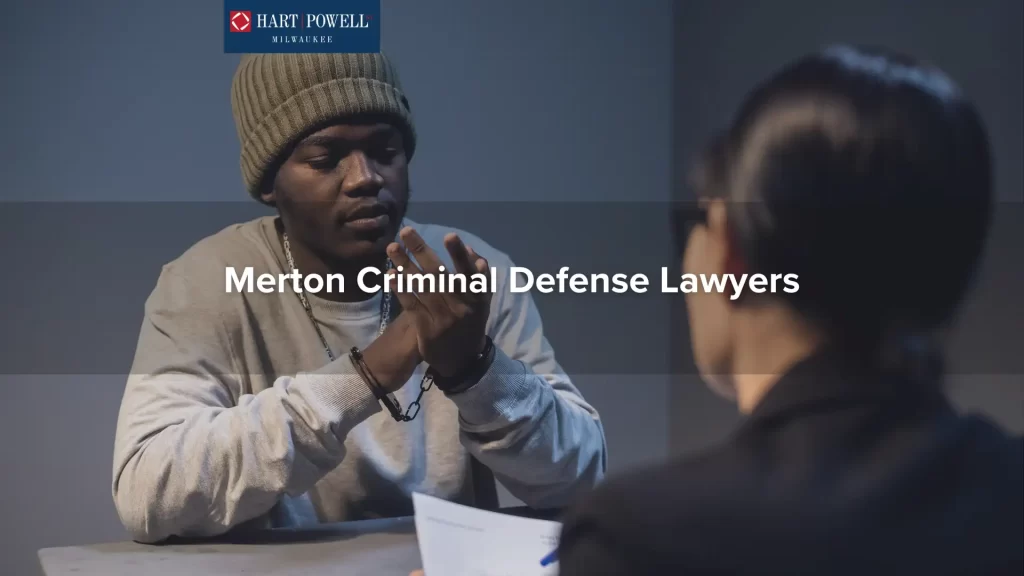 Have you been placed under arrest or charged with a crime, or have you learned that you have been placed under criminal investigation? If so, you need to act quickly to protect and preserve your legal rights to defend yourself against criminal prosecution. But when the extensive resources of the government have been brought to bear against you, you need a Merton criminal defense lawyer to help you understand your situation and advocate for your freedom and reputation.
The attorneys of Hart Powell, S.C. have extensive experience defending clients in state, federal, and appellate courts throughout Wisconsin and the nation. When you come to our firm for help after being charged with a crime, we know that you are turning to us to not only defend you in a criminal case but also to defend your freedom, reputation, and future. We will do whatever it takes to ensure that your rights are protected throughout your case and that you receive a fair trial. You can also trust us to fight as hard as necessary for the best possible result in your case.
If you have been arrested and charged with a crime in Merton, WI, reach out to Hart Powell, S.C. for an initial case review. You can go over your legal rights and options with our knowledgeable criminal defense lawyers.
Do I Need a Criminal Defense Attorney?
If you are facing criminal prosecution, you absolutely need a criminal defense attorney. Your freedom, future, and reputation are at stake when you have been charged with a crime. Because of the consequences of conviction, you have the constitutional right to representation by a criminal defense lawyer. When you are facing the seemingly limitless resources of state or federal prosecutors, you need a criminal defense attorney to help level the playing field for you.
Your lawyer can help you understand the charges that have been brought against you and the potential consequences you may be facing in a conviction. An attorney can also walk you through what to expect at each stage of your case. Most importantly, a criminal defense attorney can serve as a resource for you to lean on during this difficult time, helping you through the feelings of anxiety, uncertainty, and loneliness that can come with facing criminal prosecution.
Why Choose Hart Powell, S.C. to Defend Me?
Choosing a criminal defense attorney is one of the most important decisions you will make in your case. At Hart Powell, S.C., we believe that our Merton criminal defense lawyers can provide you with the zealous legal advocacy you need to secure the best possible outcome in your case. Our legal team includes attorneys with decades of legal experience. Our attorneys have been recognized as Super Lawyers and Top 100 Trial Lawyers along with Superb ratings with Avvo. Our attorneys also have won numerous high-profile trials and appeals, having argued cases before both the Wisconsin Supreme Court and United States Supreme Court.
When you choose Hart Powell, S.C. to help you after you have been arrested or charged with a crime, you can expect us to aggressively advocate for your rights and reputation. We work tirelessly to ensure that your arrest does not impact your future.
Our attorneys use a collaborative approach to handling each client's case. Although your case will be primarily handled by one of our attorneys, each member of our legal team will offer their knowledge and experience to help develop an effective case strategy for you. Our firm's long track record of success demonstrates how our team-based approach gives our clients the best chance of a favorable result.
Types of Criminal Cases We Handle
At Hart Powell, S.C., our skilled Merton criminal defense attorneys represent clients charged with federal criminal offenses such as:
We also have extensive experience assisting clients in state criminal cases involving charges such as:
Reach out to us to see how our firm can help you when you are facing state and/or federal criminal charges.
Frequently Asked Questions about Criminal Defense
Common questions that many people have after being arrested or charged with a crime include:
Doesn't hiring a criminal defense attorney make me look guilty?
No. When you are arrested or charged with a crime, you have the right to legal representation. Even though you may be innocent of the crimes you have been charged with, not getting legal advice and advocacy can still lead to you being convicted and sentenced to fines or prison. Having a criminal defense attorney means that you have someone looking out for your rights and interests and ensuring that you receive a fair trial.
Should I talk to the police before speaking with a criminal defense lawyer?
No. Never think that you can talk your way out of your arrest or charge or that you can clear up any misunderstandings if you were charged with crimes you didn't commit. Anything you say to investigators will end up being used to build the case against you. You should always consult with a criminal defense attorney before deciding to provide a statement to the police or answer their questions.
When should I call a criminal defense lawyer?
To have the best chance of protecting your rights and your freedom, you should contact a criminal defense lawyer as early as possible. When you are arrested or charged with a crime, you should insist on your right to speak to an attorney. Even if you are only being investigated and have not yet been arrested or charged, you need a criminal defense attorney. A lawyer can work to try to clear your name from criminal investigation. If police and prosecutors ultimately decide to charge you, your attorney can help make the process go more smoothly.
Contact a Merton Criminal Defense Lawyer from Hart Powell, S.C. Today
Don't leave your freedom and future to chance when facing the criminal justice system. Call Hart Powell, S.C. at (414) 271-9595 or fill out the contact form on our website for a confidential consultation to learn more about how a Merton criminal defense lawyer can help guide you through this critical time.