Milwaukee Mail Fraud Lawyers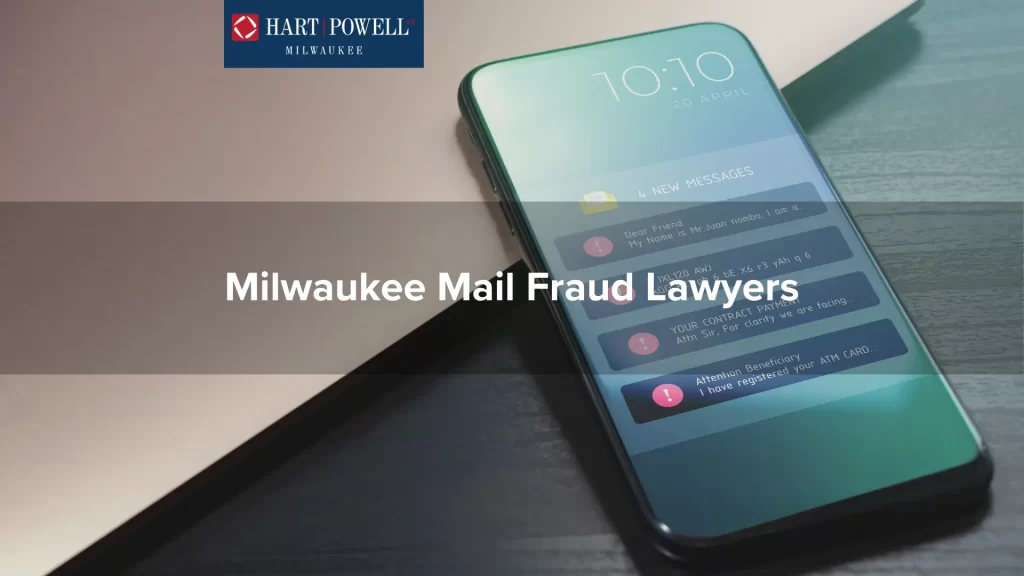 Were you arrested or charged with mail fraud? Do you need help with your defense? If so, contact Hart Powell, S.C. immediately. We'll work hard to protect your rights and ensure you get a fair trial. We know how to build a strong defense for our clients. You can depend on us to use our experience, knowledge, and resources to present sufficient evidence that discredits the prosecutor's case. We'll fight hard to get the charges against you reduced or dropped.
We understand this is an overwhelming and scary time in your life. We'll be by your side to help you through it. Our Milwaukee mail fraud lawyers will provide advice, support, and guidance throughout the entire legal process. You won't be alone in this fight for your freedom. Call Hart Powell, S.C. at (414) 271-9595 to find out more about how we can help you.
What is Mail Fraud?
Fraud involves any scheme to:
Sell, exchange, distribute, supply, or use counterfeits; or
Obtain property or money under false pretenses.
Mail fraud refers to a scheme that involves using the United States Postal Service or another mail carrier to perform a fraudulent act. If the crimes occur within the state of Wisconsin, it falls under state laws; however, it becomes a federal crime if it crosses state lines.
The United States Postal Inspection Service enforces federal laws within the USPS and investigates possible criminal activity. The USPS Office of the Inspector General oversees this law enforcement agency to further manage, detect, prevent, and investigate any fraudulent activity involving mail operations. That includes activities such as internal mail theft, contract fraud, financial fraud, healthcare fraud, and official misconduct.
Common Mail Fraud Schemes
Mail-order fraud: Sending order forms or catalogs to people through the mail. Anyone who responds with a completed form and payment might receive a defective item, something worth less than promised, or nothing.
Fraudulent solicitations: Soliciting money by using fraudulent terms or promises. One such scheme might include the promise of a cash prize by paying upfront to enter a sweepstake or contest. Others can involve the promise of low-cost healthcare or a credit card with the advanced payment of a fee.
Pyramid or Ponzi schemes: Someone will receive some type of communication that requests money sent to a specific person and forwarding of the correspondence to additional individuals. The person responsible for starting the scheme ends up with payment from multiple people, while other individuals end up with nothing.
Corporate offenses: Mail fraud can occur within corporations. Things like embezzlement and money laundering might involve using the United States Postal Service or another mail carrier to reach their goals.
Various fraud crimes: In some instances, someone might mail a letter pretending to be a government entity, such as the IRS. The recipient responds with financial or personal details that allow the sender to use it for other fraudulent activities.
Additional offenses: Mail fraud can also include charity donation fraud, employment fraud, lottery fraud, and more.
Know Your Rights During an Investigation
If you get arrested on suspicion of mail fraud, it's crucial that you know your constitutional rights and assert them when necessary. By knowing your rights, you'll ensure you don't say anything that implicates yourself in the crime or assists the Inspector General with their investigation.
Right against unlawful search and seizure. Anyone who shows up at your home to perform a search must show a valid search warrant. If they don't have one, you can decline their request to search the premises.
Right to remain silent. From the moment you get arrested, you can refuse to talk to law enforcement and the individuals performing an investigation into your alleged mail fraud. You don't have to answer anyone's questions or provide details of the crimes they believe you committed.
Right to an attorney. While you're asserting your right to remain silent, you can ask to speak with a Milwaukee mail fraud lawyer. At that point, they should stop the interrogation and allow you the means to call your lawyer or find one to hire. If you don't have access to one or can't afford to pay, you can ask for a public defender. You also have the right for your attorney to be with you while investigators talk to you about their case.
These Mistakes Could Impact the Outcome of Your Case
Avoid these mistakes if you want to give yourself the best chance of avoiding jail time or other penalties after being accused of mail fraud:
While your case is ongoing, you shouldn't speak with anyone about the details except your lawyer. It's their legal obligation to keep anything you discuss private. However, your family, friends, and coworkers could get subpoenaed to testify against you. If you share any information that could indicate your guilt, they must be honest about it on the stand.
The government can also subpoena emails, text messages, and other correspondence to submit to the court as evidence of your crimes. So you should also refrain from discussing your case through electronic means. During this time, your best option is to keep quiet and don't give the prosecution an opportunity to use anyone you know against you.
Never post on social media about your ongoing criminal case. In addition to subpoenaing witnesses and electronic messages, they can also subpoena your activity on social media platforms, including Twitter, Facebook, and Instagram.
Even online forums and chat rooms where you're asking for legal advice could become evidence during the investigation. It would be in your best interest to avoid social media and the internet altogether until your case is over.
Don't get rid of any evidence. If you know of incriminating documents, you should leave them alone. You might think destroying it will help you, but it could result in obstruction of justice charges. Prosecutors will also look at it as an admission of guilt. They could use your actions to convict you of mail fraud and additional crimes associated with covering up what you did.
Penalties for Mail Fraud Conviction
When a judge reviews mail fraud charges to consider an appropriate sentence, they might consider the following factors under statute 18 U.S.C. Section 3553 (a):
The defendant's characteristics and history and the nature of the crime;
A necessarily imposed sentence:
Due to the severity of the offense, respect for the law, and adequate punishment,
To deter criminal conduct,
To protect others from additional crimes the defendant might commit, and
To provide the defendant with medical care, vocational or educational training, or other effective treatment to correct their behavior;
The penalties that are available;
The type of sentence and the range applicable to the type of crime committed as indicated in the guidelines; and
Any relevant policy statement.
Mail fraud is a Class H felony. If convicted, you could face up to 20 years in prison and a maximum of $100,000 in fines. If your offenses involved federal disaster relief or a financial institution, your conviction could result in a 30-year prison sentence.
Defense Strategies Used in Mail Fraud Cases
When you're up against charges of mail fraud, you'll need the help of an experienced Milwaukee mail fraud lawyer. The most common defenses include the following:
Entrapment: Law enforcement or another party pressured or compelled you to commit the offense so they could arrest you.
Lack of intent: Your actions were a mistake, and you didn't have the intention of deceiving anyone.
Insufficient evidence: There isn't enough evidence for the prosecution to prove beyond a reasonable doubt that you're guilty of the crime.
Constructive fraud: The alleged fraudulent act was constructive and not intentional.
Illegal search and seizure: The evidence used against you was obtained by wiretap, illegal search, or other means that make it inadmissible in court.
Representations aren't material: The alleged misrepresentations were not factual statements. Instead, they were statements of opinion.
Why You Need an Experienced Milwaukee Mail Fraud Lawyer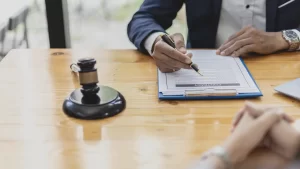 The federal government uses endless resources to reach a conviction when investigating any case involving mail fraud. However, your arrest does not automatically indicate guilt. At Hart Powell, S.C., we can launch our own investigation into the allegations and obtain evidence proving your innocence. We have experience creating defense strategies that can convince a jury of your unjust arrest and charges.
It might seem overwhelming when you're facing a prison sentence. Mail fraud cases are complex. It's important that you hire a Milwaukee mail fraud lawyer immediately after your arrest. The sooner we can begin working on your defense, the better. Depending on the circumstances, we might attempt to reach a plea agreement for a lesser charge and reduced sentence. However, sometimes the prosecution's case is weak and we can aggressively fight against them in court.
Whether you're guilty or innocent of mail fraud, you deserve the best possible legal team to represent you. Hart Powell, S.C. will protect your rights and ensure fair treatment throughout the entire process. Getting arrested can upend anyone's life. It can affect your job, family, and reputation within your community. It's up to us to secure your freedom so you can get back on your feet and move forward with your life.
If you're facing a mail fraud charge and need assistance with your defense, call (414) 271-9595 to speak with one of our Milwaukee mail fraud lawyers.