Michael F. Hart
Managing Partner
Michael F. Hart has practiced in the areas of criminal defense, civil litigation, and personal injury matters for more than 30 years. During that time, he has distinguished himself as a trial lawyer with an imposing courtroom presence. Court TV has identified Michael as one of the state's most prominent criminal defense attorneys, and he has been recognized by judges and lawyers throughout the state as a Wisconsin Super Lawyer since the award's inception. He was also recognized by Best Lawyers in America in 2021.
For over three decades, Michael has obtained successful results in a large number of serious felony cases, including homicides, sexual assaults, and drug conspiracies, and has achieved notable results in a variety of white collar cases. Michael's successes have also included one of the largest defamation awards in state history against a private individual, which included a six-figure punitive damage award.

Michael has successfully represented a wide variety of high-profile clients, including members of the National Basketball Association, National Football League, Major League Baseball, as well as law enforcement officers, physicians, lawyers, and an array of professional and corporate executives. Many of Michael's most satisfying courtroom victories, however, have come from cases that don't make the evening news – the cases where hardworking people face the harsh consequences of being investigated and prosecuted by a government with unlimited resources and no mercy.

"Michael Hart is a
regular contributor on
ESPN Radio"
Michael maintains a strong legal presence locally and nationally. He is a member of the State Bar of Wisconsin, the State Bar of Michigan, the American Association for Justice, the Wisconsin Association for Justice, and the National Criminal Defense Association of Defense Lawyers,. In addition to his active litigation practice, Michael is a former appointee of Governor Jim Doyle to the Board of Directors of the Bradley Center Sports and Entertainment Corporation.
Michael earned his Bachelors degree from the University of Wisconsin in 1985 and his law degree from the Michigan State University College of Law in 1988. A native of Flint, Michigan, he practiced in the Detroit area prior to moving to Wisconsin, where he founded Kohler & Hart, LLP, which is now Hart Powell, SC. Michael Hart is licensed to practice before Wisconsin State and Federal District Courts, as well as Michigan State and Federal District Courts.
Notable Results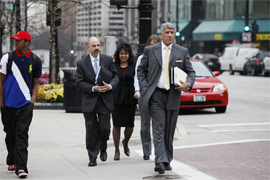 A former Koss executive accused of embezzling more than $30 million received a reduced sentence of 11 years in prison for six counts of federal fraud. Sujata "Sue" Sachdeva, the former vice president of finance at Koss, was represented by Milwaukee criminal defense attorney Michael Hart of Hart Powell, S.C.. According to U.S. Attorney James Santelle, Ms. Sachdeva's case was one of the largest embezzlement cases ever prosecuted in the history of the Eastern District of Wisconsin.
Read more.