Milwaukee Gun Crimes Appeals Attorneys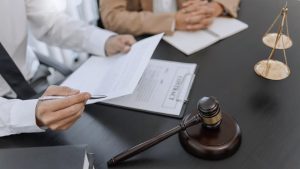 Crimes involving firearms are taken extremely seriously by Milwaukee courts. If you have been convicted of a state or federal gun crime, you understand the potential repercussions and how they can impact your life. However, a conviction doesn't have to be the end of the story. You have legal rights, and one of those rights is the right to appeal.
At Hart Powell, S.C., we have an experienced team with the resources and the know-how to build a compelling case for appeal. We work diligently to try and get your gun crime conviction overturned and secure your freedom.
If you have been convicted of a gun crime in Milwaukee, talk to the Milwaukee criminal appeals lawyers at Hart Powell, S.C. immediately. We want to mount an appeal that stands the best possible chance of earning you a more favorable outcome. Contact our office today by calling (414) 271-9595 to speak with a dedicated criminal appeals attorney.
Why You Need an Experienced Gun Crime Lawyer to Handle Your Appeal
Cases involving firearms can be complicated since gun laws exist at both the state and the federal level. If you have been convicted of a gun crime, you understand the potential for serious prison time and steep fines. Facing these consequences can be both daunting and intimidating. You may feel like you are out of options and have no choice but to submit to the rule of the court. At Hart Powell, S.C., we want you to know that there is still hope, and you do have options.
At Hart Powell, S.C., we take the time to thoroughly review your situation and investigate your arrest, the trial, the prosecution's case against you, and how evidence was collected. We go through this information with a fine-toothed comb looking for mistakes and discrepancies that could help overturn your conviction or earn you a reduced sentence.
The appeals process can be challenging, but the team at Hart Powell, S.C. will not let you go through it alone. We communicate with you through every step of the appeals process. Our dedicated attorneys will guide you towards the best path forward for your circumstances. Our goal is to build a compelling appeals strategy that gives you the best chance possible at offering you a desirable outcome.
What Is an Appeal?
At Hart Powell, S.C., our team of experienced attorneys can help you navigate the sometimes complex and confusing process of filing an appeal. An appeal is the process of seeking a higher court's judgment that can potentially overturn a lower court's conviction. During an appeal, there is no opportunity to submit new evidence or call witnesses to testify. The higher court can review all original documents and analyze what happened during the previous trial. The higher court will identify whether mistakes were made during the trial. If they find mistakes, the defendant will be entitled to a new judgment.
Often an appeal will attempt to present to the higher court with one of the following issues:
The previous defense attorney made significant errors during the previous trial
The jury saw improper evidence
Evidence was improperly or illegally obtained by law enforcement
There were issues with jury selection
The criminal statute used to get a conviction in the case was unconstitutional
The sentence handed down by the judge was impermissible
Navigating the appeals process can be difficult. It can be time-consuming to comb through court records and evidence to find the missing piece of the puzzle that can result in a successful appeal. The team at Hart Powell, S.C. has a wealth of experience representing convicted individuals and helping them overturn their convictions through the appeals process.
Gun Crime Cases That We Can Appeal
Gun cases encompass a wide range of potential convictions at the state and federal levels. The attorneys with Hart Powell, S.C. have the knowledge and resources to appeal a variety of gun crime convictions. Some of the gun cases that we may be able to help you appeal include:
Possession of a firearm by a felon
Possession of a firearm without a permit
Illegal trafficking of firearms
Sale of illegal firearms
Unlawful discharge of a firearm
Unlawful sale of a firearm
Concealed firearm possession
Transportation of a loaded firearm in a vehicle
Use of a firearm in connection with a violent crime
At Hart Powell, S.C., we can help individuals mount an appeal for these types of gun convictions and others. For more information on how we may be able to craft a strategy for you, contact our office for a consultation by calling (414) 271-9595.
How to File a Gun Crime Appeal
The first step in the appeals process is to file a notice of intent. The notice has to be filed within twenty days of an individual's sentencing. If you intend to appeal your gun crime conviction, you need to make your decision quickly and get an experienced appeals team on your side immediately.
The notice of intent is only that, a notification signaling to the courts that you plan to file an appeal. Now comes the challenging part: filing the motions to seek post-conviction relief. However, there are several different motions that a defendant could potentially file. One may be to withdraw the defendant's guilty plea. There is also an option that allows a defendant to seek a modified sentence. Which path is right for you depends on the circumstances of your situation.
Once you and your attorney determine the best path forward, an official notice of appeal must be filed. Then it is time to prepare an appellant brief. This document will outline the facts of the case, the grounds for review, and the arguments supporting that review.
The next step in the process can be the most frustrating. It is waiting for the District Court of Appeals to make its decision. For felony charges, this process can take as long as two years, but for misdemeanor convictions, the process may be quicker. Once the court has set a hearing date, both sides may present their arguments. The court will then take into account both arguments and issue a ruling. The appeals court can affirm the verdict, modify a sentence, reverse the sentence, or remand the case for a new trial.
Contact Hart Powell, S.C. to Handle Your Gun Crime Appeal
Fighting for an appeal can be a long and difficult road. That is why you need an experienced and skilled appeals attorney on your side. At Hart Powell, S.C., we are in this for the long haul and will be with you every step of the way. We want to protect your rights and build a case that gives you the best chance at a positive outcome.
If you have been convicted of a gun crime and need help appealing your conviction, turn to the Milwaukee team at Hart Powell, S.C.. Call our office today at (414) 271-9595 to find out what we can do for you.