Ex-Koss Executive Receives Reduced Sentence in $34M Embezzlement Case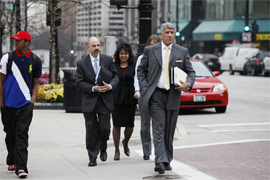 A former Koss executive accused of embezzling more than $30 million received a sentence of 11 years in prison for six counts of federal wire fraud. Sujata "Sue" Sachdeva, the former vice president of finance at Koss, was represented by Milwaukee criminal defense attorney Michael F. Hart of Hart Powell, S.C.. According to U.S. Attorney James Santelle, Ms. Sachdeva's case was one of the largest embezzlement cases ever prosecuted in the history of the Eastern District of Wisconsin.
Professional, Personalized Defense
Lead defense attorney Michael F. Hart argued that Ms. Sachdeva was afflicted with, among other mental health conditions, a compulsive shopping disorder that caused her to steal money from her employer in order to cover her credit card debts. The former Koss executive spent millions on clothing and jewelry, much of which was left unused in storage spaces that Ms. Sachdeva rented.
After entering guilty pleas on all six felony counts, attorney Michael F. Hart and the legal defense team at Hart Powell, S.C., successfully provided expert medical opinion evidence that Ms. Sachdeva's conduct had been fueled by severe mental illness.
Superior Defense, Superior Results
The sentence, announced on November 17, 2010, fell far below the possible sentence term and federal guidelines for comparable cases. Ms. Sachdeva faced a sentencing maximum of 120 years in prison for six counts of wire fraud, with federal guidelines and prosecutors suggesting a term of nearly 20 years.
After hearing the case for the defense, U.S. District Judge Lynn Adelman handed down a sentence of 11 years. Mr. Hart was able to negotiate a voluntary surrender for Ms. Sachdeva and, following the sentencing, she was able to leave the courtroom to organize her affairs before self-reporting to Federal prison. Ms. Sachdeva will serve her sentence in a minimum security facility in Connecticut.
How We Can Help
In one of the largest and most high-profile embezzlement cases ever recorded in eastern Wisconsin, Hart Powell, S.C., mounted a sound defense to turn a serious and potentially catastrophic situation into the most favorable result possible. Our attorneys understand what it takes to defend against accusations of embezzlement and other white collar crimes, and we are prepared to provide the committed legal representation that you need to obtain the best possible outcome.
Contact Us
A well-prepared criminal defense can make all the difference in your white collar crime case. To discuss your legal options with an experienced, dedicated Milwaukee embezzlement and fraud lawyer, contact Hart Powell, S.C., today by calling (414) 271-9595.