Morgan Minter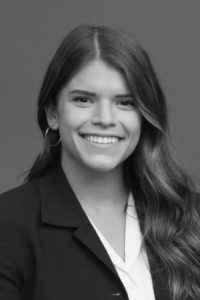 Morgan joined Hart Powell, S.C. in 2022 after earning her Juris Doctorate from Marquette University Law School. Morgan's practice focuses on defending people accused of crimes in state and federal courts.
Morgan's long-held interest in the criminal justice system led her to the defense bar and the law firm of Hart Powell, S.C. Morgan earned her Bachelor's degree from Bloomsburg University of Pennsylvania in 2018 in criminal justice and psychology.
While attending Marquette University Law School, Morgan interned at the Racine County District Attorney's office, served as the liaison between the Wisconsin State Bar Criminal Law Division and Marquette University Law School, worked as a Research Assistant for Professor Daniel Blinka, the preeminent scholar on the Wisconsin rules of evidence, earned the Alumni Achievement Award, was inducted into the Pro Bono Society, and received the CALI award for excellence in Constitutional Criminal Procedure. Morgan is a member of the Wisconsin Bar Association, Young Lawyers Division, and Milwaukee Bar Association. When not working, Morgan enjoys playing volleyball any chance she gets.
Last Updated : January 19, 2023