If you were arrested for drug possession or possession of drug paraphernalia, you may feel hopeless and alone. But you don't have to. The Milwaukee criminal defense attorneys of Hart Powell, S.C. are dedicated to supporting our clients during this difficult time. We represent our clients and protect their rights within the criminal justice system.
Our criminal defense lawyers are licensed to practice before multiple federal, state, and appellate courts. We do everything in our power to protect your rights, representing you aggressively and treating you with respect. We recognize that your freedom is at stake.
If you are facing drug paraphernalia or drug charges, you want an experienced criminal defense attorney who knows best how to protect your rights in the state of Wisconsin. In some cases, other charges may be added, including drug trafficking or distribution. Every charge comes with an additional penalty and may be used solely as a negotiating tactic by the prosecutor.
Possession of Drug Paraphernalia Is Illegal
Most people understand that possession of a controlled substance is illegal in the state of Wisconsin. These controlled substances can include marijuana, heroin, methamphetamine, Rohypnol, ketamine, and cocaine. However, did you also know that simply carrying drug-related paraphernalia is also a crime?
According to the Wisconsin State Legislature, drug paraphernalia is any item that may be used in the growth, production, manufacture, or use of a controlled substance. A conviction of possession of these items comes with imprisonment and a fine of not more than $500.
A police officer may offer to reduce your charges or drop them if you work as an informant for them. This can place you in a dangerous position. They may also inflate your charges, hoping you will not engage an experienced criminal defense attorney.
As long as the prosecution can prove you were planning to use the paraphernalia for its intended use, you can be convicted and go to jail. This can result in your driver's license being suspended or revoked for up to five years.
The police do not have to find the paraphernalia on your person for it to be in your possession. If it is in your home or car, you are in possession of an illegal object. You can be arrested and charged, even if the object was brought to your home by a friend.
A drug arrest or charge of illegal drug paraphernalia can impact your employment and employment prospects. Employers can access public records through the Wisconsin Circuit Court Access website. Before searching the records, employers are notified that discrimination against an applicant because of an arrest or conviction is a violation of state law.
However, while this is the letter of the law, employers may use the information to filter through a list of applicants. Unfortunately, there isn't much that can be done when big companies or small businesses use a criminal record to filter applicants, save time, and reduce their risk.
Types of Drug Paraphernalia
Wisconsin law identifies drug paraphernalia as objects that are used with the primary intent to:
Plant
Propagate
Cultivate
Grow
Harvest
Manufacture
Compound
Convert
Produce
Process
Prepare
Test
Analyze
Pack
Repack
Store
Contain
Conceal
Inject
Ingest
Inhale
or otherwise introduce a controlled substance into the human body. If you're found guilty, the charge will be a Class H felony. This raises to a Class E felony if a person over the age of 18 violates the law in the presence of a child who is 14 years or younger.
The list items that are considered drug paraphernalia for individual users can include:
Apple pipe
Burned spoons
Bongs
Mirrors
Modified cans or bottles
Wood or metal pipes
Plastic baggies
Rolling papers
Scales
Syringe
Aluminum foil
Marijuana vaping device
What to Do If You Are Arrested with Drug Paraphernalia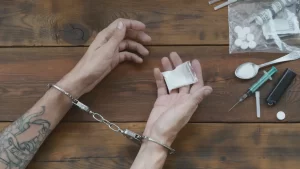 Although Wisconsin lawmakers are discussing legalizing marijuana in the state, it continues to be illegal to be in possession of recreational marijuana or other controlled substances. Possession and use of an illegal drug carries charges and penalties that can vary depending on the amount of drug and what is in your possession. If you are convicted, your sentence can also depend on your criminal history and other convictions that may have been handed down at the same time.
If you are arrested on a drug paraphernalia charge, it is crucial that you have an experienced Wisconsin criminal defense attorney to represent and protect your rights. The attorneys at Hart Powell, S.C. have decades of experience in criminal law.
Each of the lawyers on our legal team is dedicated to aggressively and tenaciously representing you. It's our goal to help make sure that your arrest does not define your future. You might be concerned that hiring a lawyer immediately after an accusation may make you look guilty. However, without legal representation, you may inadvertently say something that negatively affects your case.
Get Help Today
Call our compassionate and experienced legal team today at (414) 271-9595 to schedule your confidential consultation. We'll review the facts in your case and advise you on your next best steps.